I am re-posting this today given that 75% of yesterday's deliveries failed for some wonky reason that my email provider cannot explain.
How about joining me in Nashua on Thursday, April 18?? Click here to register!!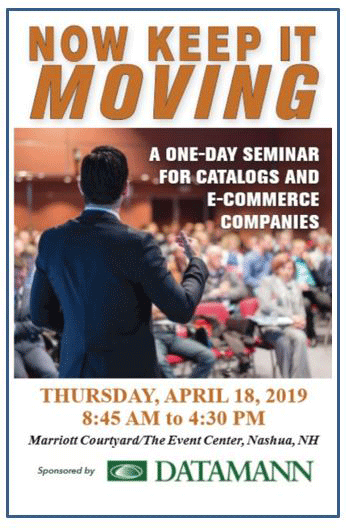 I'm taking a different approach to my presentation. In the past few years, I've asked organizations to change. That simply doesn't work. You can't present a bunch of ideas to a Director at Orvis and expect the individual to change the organization. The ideas aren't the ideas of the Director at Orvis ... they're my ideas. Why would a VP at Orvis adopt the idea of a speaker with no skin in the game?
So this year the presentation is all about you ... yes ... YOU! You are reading this because you are likely a Marketing/Analytics Leader, or you want to be a Marketing/Analytics Leader.
In the past year or two, there's been a huge influx of new Leaders ... the Baby Boomer generation has had thirty years to dominate commerce, and they are now passing the torch to younger Gen-X folks or older Millennials. This is a very exciting and challenging time in the career path of a young professional. It's also a disorienting time ... you are new and a lot of people around you have twenty or thirty years of Management experience. They have their ways of doing things, and they're going to impose their style of Management upon you.
This became clear to me a few years ago ... I sat in a room while a Young Professional shared six months of findings about how to grow the business (not only how to grow it, but how she already grew it without anybody else knowing what she accomplished) ... when her presentation ended, one VP whispered to another VP "she's young, she'll come around to how we do things around here". In other words, the seasoned leaders did not respect what this person accomplished (and hint - this person grew sales by 10% or more, something almost nobody else accomplished at the company in the past decade).
The hour-long session just plain angered me. How could these Leaders treat this woman so poorly, given how good she made them look?
It became clear that the new Marketing Leader needs a set of tools to "set the tone" ... to diagnose real problems (not the problems people perceive to exist) ... and then to align the organization around what really matters.
I went through this process ... I didn't have a formalized process in 1998 at Eddie Bauer and I paid the price for being new and disorganized. I did have a formalized process in 2001 at Nordstrom and while some folks hated my process, the process worked wonders. And yes, the process generated enemies ... but it was so important to have a process in place and to constantly point back to the process and say "this is what we are doing, and this is why we are doing it" ... and to not get distracted by noise, even if the noise came from those who could fire you!!
I'll spend two hours sharing with you the process and diagnostics necessary to get you, the New Marketing Leader, set up for success.
This talk will be about you. No more sharing of tactics that you'll disagree with and say "Thank You, Next". This time you are responsible for doing something. I have faith that you are ready to do great things!